Happy Monday, Mama's,
I love being a mom. It is the most  fulfilling aspect in my life. However, every mama needs a night out with the girls. A time to reconnect, laugh, dance, chit-chat and have a good time. Leave the guilt at home, you DESERVE  a night out. So, put on some red lipstick, your favorite heels and go out and enjoy a night with the girls.
After having Hunter, I also learned who my true friends are. These are the people who didn't head for the hills once my baby arrived. I am so lucky to be surrounded by smart, beautiful and fabulous women! It makes these nights out even more special.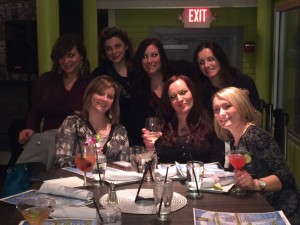 So, in the midst of your busy week, plan a Ladies Night Out with your girlfriends. I promise, it is well worth it.
Below, find pictures of our Ladies Night Out at Rooftop 120 in Glastonbury.
And to my fellow New Englanders, stay WARM in Storm Ellie.
xo,
Alison