Happy Friday, Mama's!
It's Valentine's Day weekend, one of my favorite holidays. Why? Because this is our opportunity to celebrate LOVE and all of the people we LOVE!
Unfortunately, here in New England we are getting yet another snow storm which will put a damper on many people's Valentine's Day plans. But you can still have a lot of fun staying in-doors!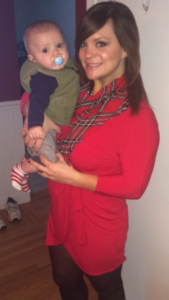 Here is a list of my top 5 ways to make your Valentine's Day Red Hot!
1. Make breakfast in bed. There is no better way to start off the morning, then with a little coffee, R&R and a delicious breakfast in bed. There are so many cute and simple ways to make it extra special and sweet. Here are a couple of cute ideas below:
2. Snuggle up and watch a movie. Yes, a gushy love movie. It's the only day of the year you can get away with this and your husband won't want to pull his hair out.
 My personal favorite, The Holiday. It stars Cameron Diaz, Kate Winslet, Jack Black and Jude Law. It follows two heartbroken women who swap houses for two weeks. What happens during that time is magical. And shows you that love can come into your life when you least expect it.  It's funny, charming, witty and has a HAPPY ENDING. I never get sick of watching it.

3. Start the night off with a fabulous cocktail and horderves. I prefer a martini on a special occasion. And with the bitter cold here up north, it will surely help keep you warm.
I found a great recipe on www.marthastewart.com. It's called a Raspberry Chocolate Kiss Cocktail. It's a great date night drink. (And RED)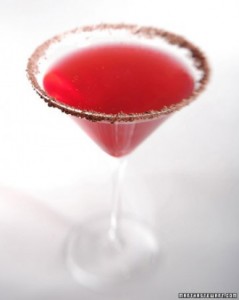 Ingredients
1/4 cup Mint-Infused Simple Syrup, plus more for rim
3 chocolate cookies, finely crushed, such as Nabisco Famous Wafers
10 raspberries
1/4 cup vodka
2 tablespoons cranberry juice
Ice cubes
Directions
Fill a shallow dish with enough simple syrup to just cover the bottom. Place crushed cookies into another shallow dish. Invert a martini glass into simple syrup and then immediately into crushed cookies to coat the rim of the glass.
Place raspberries in a cocktail shaker; crush with a muddler. Add simple syrup and muddle again. Add vodka and cranberry juice; fill shaker with ice. Shake well until chilled. Strain into prepared martini glass. Serve immediately. (www.marthastewart.com)
 4. Give a personal gift. Now that we have a 4-month old, I really enjoy giving gifts, "From Hunter." You can either have a craft day and make one from home or take advantage of the photo center at Walgreens.com. They have great personalized gifts that can be made the day you order, which is just perfect for a working mama like me.

5. Set up a Valentine's Day Scavenger Hunt. If you have the time, put sticky note's all over the house with clues, which will lead your lover on a scavenger hunt throughout the house. It's fun to leave V-Day inspired gifts at each note, ie: Hershey Kisses, a lip stick kiss, a flower. It is up to you what the Scavenger Hunt will lead to. Maybe a nicely set table with dinner or champagne and chocolates. Be creative and have fun!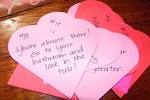 Also, I haven't forgotten my single mama's. You don't have to be in a relationship to celebrate Valentine's Day! It is also the perfect night to have the girls over and relax. Or, if you are feeling frisky, get a sitter and go out and spend a night on the town. You would be shocked at how many single people go out and celebrate. I've always had a great time.
Happy Valentine's Day, Mama's! I hope you all have a fun filled weekend with your friends and family. Don't forget to tell the people you LOVE how special they are to you!
XOXO,
Alison